Bulwer Avenue traffic lights 'could stay'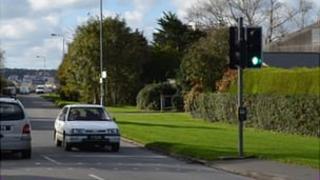 A set of traffic lights installed for the duration of the £80m refurbishment of the airfield at Guernsey Airport could become permanent.
The temporary signals were installed on Bulwer Avenue to help deal with the extra traffic going to and from Longue Hougue during the two-year project.
The increase in traffic was due to it being used as a material store as a temporary dock was built there.
The Environment Department plans to consult the public on the issue.
A spokesman said properties and businesses in the area have already been consulted and were behind the proposals, as were Guernsey Police.
Environment Minister Roger Domaille said: "Given the probable future use of the site it seems sensible to ask the question should they stay or should they go?
"It's probably going to be associated with waste and a material recovery facility and that sort of thing, but even if it's not that the site itself will be used for something."
Gerry Prickett, airport project manager, said: "Other than saving the cost of removing the lights, this has no bearing on the airport project."
Their removal before the end of 2014 was a condition of them being put in place.
Mr Prickett said following the department's request the project team had applied for planning permission to keep the lights in place.