Guernsey States agrees to close primary schools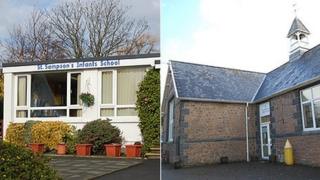 The closure of two Guernsey primary schools has been approved by the States of Guernsey.
Deputies agreed to shutting St Sampson's Infant School in 2014 and St Andrew's Primary School in 2015.
The Education Department suggested the closures as part of a move to create larger primary schools and save about £800,000 a year.
It was part of wider changes and possible future reforms to the primary education system agreed by deputies.
Before agreeing to close the schools, the States approved a policy of moving to bigger primary schools of two or three forms.
They approved the closures of St Sampson's Infants by a vote of 34-11 and St Andrew's Primary by a vote of 31-14.
The States agreed to review the areas served by Forest Primary School and La Houguette Primary School in the next five to 10 years.
They also agreed discussions should take place with the Diocese of Portsmouth to consider if Catholic education could be provided by a single two or three form school.
This would be instead of the current single form entry St Mary and St Michael Primary and the one and a half form Notre Dame du Rosaire Primary.
On Tuesday a petition against the closure of St Andrew's Primary, signed by almost 4,500 people, was handed in to the States.
While the school is not the island's only single class entry, the department decided to suggest its closure due to the "considerable maintenance" costs expected in the future and the site's "limited opportunities" for development.
St Sampson's Infant School is the island's only stand‐alone infant school and those pupils will be merged into an expanded Vale Primary School site.
The States approved allowing the Treasury and Resources Department to decide on spending of up to £450,000 to expand the Vale Primary School site in order to accommodate the pupils from St Sampson's Infants.
In 2009 the States discussed the closure of the two schools, but voted to keep them open, in the case of St Sampson's Infants by just one vote.
This time the debate lasted 11 hours and there were 35 speeches.