WWII Allied airmen memorial base approved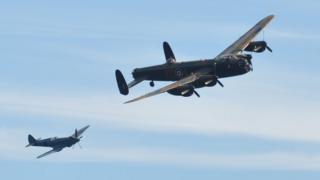 A memorial for Allied airmen shot down over the Bailiwick of Guernsey in WWII could be erected in time for the 70th anniversary of the end of the conflict.
Planning permission has been given for the foundations to be built in front of Guernsey Airport's terminal building.
A design has not yet to be agreed but fundraising towards a target of £50,000 has already begun.
More than 110 airmen were shot down either in the Bailiwick or further afield after being hit by German flak.
Mike Snelling, from the Allied Aircrew Memorial committee, said research showed this figure included 80 members of the United States Army Air Force and airmen from Britain, Australia, Canada and New Zealand.
'First step'
Mr Snelling said it was believed one aircraft reached Roches Douvres reef, about 25 nautical miles away from Guernsey, after being hit.
Pat Johnson, who started the project, said: "I'm delighted that the first step has been taken and we can now go ahead with the process of obtaining designs and funding for the actual monument itself."
The foundation is due to be laid by Lagan Construction, which is carrying out the £80m airfield refurbishment work and could be done later this week.
Mr Snelling said that while no designs had been considered they expected the memorial to be up to 20ft high and the cost, including planning and architect's fees, to be about £50,000.
Fundraising for the project was begun by the RAF Association's Guernsey branch (RAFA), which donated £1,000.
RAFA chairman Mick O'Connell said they were keen to support a project which honoured "the memory of over a hundred allied aircrew lost in Bailiwick waters" and hoped that other groups and organisations would join the initiative.