Most Guernsey parish elections not contested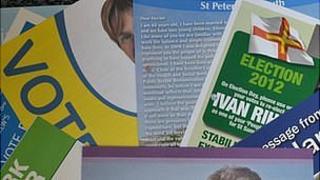 Just 10 parish official posts are to be contested in November's elections.
The other 33 positions of either constable or douzenier have the same number of candidates as open seats.
The contested elections, in St Peter Port, St Sampson and St Saviour, will either be decided at parish meetings on 6 November or polling dates set.
Earlier this week Shane Langlois, Douzaine Council chairman, said the election system was outdated and put people off standing.
He said the current system, which dates back to the 19th Century, was "quite a clumsy way of doing things and it puts people off".
Currently one of the two people who have nominated a candidate speaks on their behalf at the parish meeting, after which they are either elected by a show of hands or seven or more people vote for a secret ballot and a separate polling day is decided.
Mr Langlois said: "I don't see any reason why we shouldn't have a similar election system to that for deputies [who sit in the States]... with individual manifestos and just make it more 21st Century.
"People are a bit daunted by going along to the parish meeting... I remember when I went to my first parish meeting, you haven't got a clue what's going on, what these people are talking about.
"People understand how other elections work."
Contested elections
St Peter Port douzeniers (six seats): Pete Burtenshaw, David Falla, Christine Goodlass, Keith Pike, Jacqueline Robin, Andrew Schaffer and Danielle Sebire.
St Sampson douzenier (one seat for one year): Robert Gill and MacArthur Hamel
St Saviour douzeniers (three seats): Philip Duquemin, Alison Foley, Margaret Macdonald and Joy Skillett.
Uncontested elections
Castel constable Nigel Acton and douzeniers Michael Fooks, Christopher Le Page and John Webster.
Rhiannon Cook and Liza Martel as members of the La Mare de Carteret Primary School Committee and Ann Cox for the High School Committee.
Forest constable Francis Paul and douzeniers Richard Heaume and Alan Le Cheminant.
St Andrew constable Peter Ward and douzeniers Jonathon Barrett, David Prosser and Martin Thwaite.
St Peter Port constable Denis Le Moignan and procureur of the poor Richard Barneby.
St Pierre Du Bois constable Annette Henry and douzeniers Paul Domaille, Stephen Fell and Timothy Langlois.
Kerry Piriou as a member of La Mare de Carteret Primary School Committee.
St Sampson constable Paul Le Pelley and douzeniers Christopher Le Tissier, Roy Martel and John Morgan.
St Saviour constable Adrian Tempest and Ann Nippers as a member of the La Mare de Carteret School Committee.
Torteval constable Susan Brooks and douzeniers David Cherry, Pat Le Tocq and Andy Sauvarin.
Vale douzeniers Pat Devenport, Roz Henry, John Leale and Peter Tooley.
Pat Devenport and Jeanette Guille as member of the La Mare de Carteret Primary School Committee and Mary Lowe for the High School Committee.