Guernsey £40,000 mephedrone importers jailed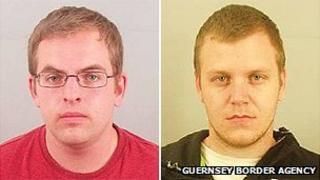 Two Guernsey men have been jailed for more than five years after importing about £40,000 worth of mephedrone into the island.
The pair imported 501.9 grams of the Class B controlled drug, concealed in a vehicle, Guernsey's Royal Court heard.
Terry Brian Marsh, 25, and Martin George Dodd, 19, pleaded guilty to the charges.
Each was sentenced to five years and nine months imprisonment, dated back to the time they were arrested.
Dodd was stopped by customs officers on 4 June, as he drove his vehicle off the ferry from Poole. The officers found the drugs during a search of the vehicle.
Marsh was on the same ferry as a foot passenger and was arrested later the same day by police. He was interviewed and items including his mobile phone were seized before he was released on bail.
A video of the area of the drug concealment in the vehicle was found on his phone and based on this new evidence he was re-arrested on 6 June as he attempted to board the ferry to Poole.
In summing up, Judge Russell Finch said they were receiving the same sentence as they were each fully involved in the importation of this "nasty, dangerous drug".