Guernsey considers ending contract with Jersey Met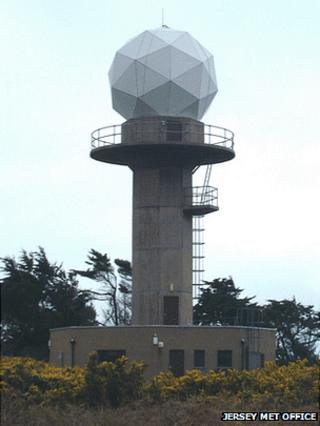 Guernsey could stop paying Jersey Met for its weather forecasts from the end of next year.
The Environment Department is consulting with the rest of Guernsey's government over whether to continue with its annual payments.
It follows an indication from Jersey Met that the fee, which has not gone up since 2004, is no longer enough.
The current five-year contract expires at the end of this year but a one year extension has already been negotiated.
In their letter to other departments, environment bosses said: "Termination of the arrangement is a relatively attractive option, as it has very little operational need for local weather forecasting."
However, it acknowledged that should Guernsey withdraw, "there is a likelihood that, as a result, the Jersey Met operation would fold".
The fees from Guernsey make up about 20% of Jersey Met's total funding.
The total, annual budget for the environment department's provision of public weather data is £300,000, but the department would not reveal how much of this was paid to Jersey Met, in order not to affect any future negotiations.
'Safety equipment'
Jersey Met provides three forecasts a day which are specific to the Bailiwick of Guernsey, along with four daily shipping forecasts, a six-day forecast and tide and weather warnings.
Deputy Roger Domaille, Guernsey's environment minister, said: "We have to cut our cloth to suit our reducing budgets."
He admitted he did not know what the consequences would be of terminating the contract but said this was the reason for consulting other departments.
Guernsey's Harbour Master Chad Murray said the forecasts were used by everyone from large commercial vessels to islanders using jet skis.
"It's very important," he said. "We encourage people to consult the conditions before they set out and plan a journey."
"The Met forecast is another piece of safety equipment for your vessel," he said.
Andy Skate, the chief officer for Jersey's Environment Department, said the jointly-funded forecasting service was "one of the best examples of cross-Channel working that we've had over the decades".
He said the constantly-manned office in Jersey might have to reduce its opening hours if the Guernsey contract was lost.