Work begins to refurbish Guernsey's only tower block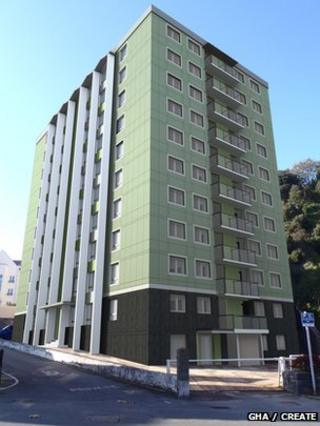 A £6m project to refurbish Guernsey's only tower block has begun.
The 11-storey Cour du Parc building in St Peter Port will be converted to house 50 flats - an increase of eight over the original design.
Local building contractor RG Falla - which built the block in the 1960s - has been chosen to carry out the work after a tendering process.
The building will house those on the social housing waiting list, key medical workers and first time-buyers.
Cour du Parc has been empty since 2011, when it was decided the building was not fit to house residents.
It is being given to the Guernsey Housing Association (GHA) by the Housing Department and all the funding for the work is being provided by RBS International.
There are only five car parking spaces available for residents at the site and increasing this number has been ruled out by the Housing Department as too expensive.
Instead, 26 spaces are to be provided in the basement for mopeds and motorbikes, along with secure storage for 60 bicycles.
The project is expected to be complete by November, 2014.