Flights on Guernsey-Gatwick route are 'a priority', minister says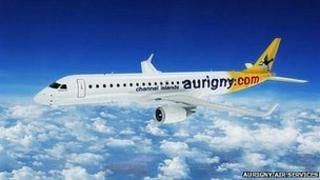 Ensuring flights continue to operate between Guernsey and Gatwick is a top priority, according to Guernsey's treasury minister.
Deputy Gavin St Pier's comments follows the withdrawal of Easyjet's application to operate on the route.
He said: "The real competition is not between Aurigny and Easyjet or any other airline... it is for the slots, there's a limited supply of those."
Deputy St Pier said it was why the States had bought Aurigny in 2003.
He said: "We now have six pairs of slots into Gatwick... it's about securing those for the long term."
Safeguard the route
Deputy St Pier said: "As long as we have the finance industry as our main industry and it is the main route for that industry... then we have to retain the key lifeline route.
"My job is manage, preserve and protect the resources and those slots are one of our assets and we need to preserve them."
His department has suggested changes to the air licensing policy to safeguard the route.
He said the number of passengers carried annually, which is about 350,000, has "barely moved over the past 10 years".