Guernsey signs tax deals with Gibraltar and Slovakia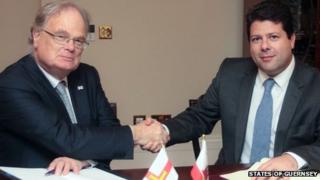 Signing a tax agreement with Gibraltar demonstrates Guernsey's commitment to tax transparency, says the chief minister.
Deputy Peter Harwood signed tax information exchange agreements (TIEA) with Gibraltar and Slovakia on Tuesday.
The agreement allows for information on bank accounts relating to a criminal or civil tax investigation to be shared.
Deputy Harwood said the agreement with Gibraltar would build on existing business and culture links.
He said the "friendship" would be "further strengthened by the important agreement".
"Guernsey and Gibraltar share many similar challenges and I am pleased that we have agreed to discuss further how we might be able to work together to better meet those challenges together."
Guernsey's chief minister also signed a Tax Information Exchange Agreement with Slovakia.
He said despite only being an independent state for 20 years, Slovakia was an influential member of the European Union.
"The agreement is important in ensuring Guernsey has strong tax transparency agreements in place with EU Member States," he said.