Guernsey-Gatwick route protection rule proposed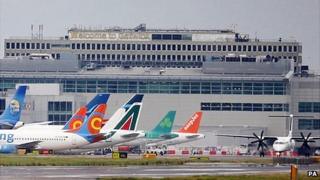 Specific controls could be introduced for licensing the air route between Guernsey and London Gatwick "to safeguard the existing service".
It follows Treasury Minister Gavin St Pier's concerns about the impact on States-owned airline Aurigny if Easyjet starts operating on the route.
His department wants the impact on airlines already on the route to be considered when deciding licences.
The changes are due to be voted on by the States at the end of the month.
Any commercial flights in or out of Guernsey has to be licensed by the island's Commerce and Employment Department, except for direct flights between the island and Ireland and mainland Europe.
The proposals would mean the impact on any existing carriers would be considered on any application on the Guernsey to London Gatwick route.
They also suggest the revised policy should be monitored and reviewed so it can be considered by the States in 2017.
Deputy St Pier raised his concerns after Easyjet applied for a licence to fly between Guernsey and Gatwick.
It follows Flybe ending its operation on the route due to its sale of its Gatwick slots to Easyjet and the States agreeing to guarantee a loan to allow Aurigny to buy a jet to increase its capacity on the route as sole operator
The route currently accounts for £3.2m of Guernsey Airport's annual turnover with two operators offering a total of about 515,000 seats each year, which are used to carry about 340,000 passenger annually.
With the new jet in place, Aurigny expects to be able to offer 420,000 seats each year.
Public Services Minister Paul Luxon, whose department is responsible for the running of the airport, said: "There is a concern that a reduction in capacity on the route, owing to aircraft being full at peak times or through technical difficulties, will lead to reduced income for the Airport, which already only just breaks even.
"If a solus arrangement is introduced and leads to quantifiable losses by Guernsey Airport it will be for States to decide how this shortfall is to be made up."
Colin Le Ray, Guernsey Airport director, said in a report to the States that a single operator on the "critical route", which daily carries more than 2,000 people - 50% of all passengers travelling between the island and the UK, must they show it can source suitable replacement aircraft in a timely manner.
He said: "Without such a requirement, Guernsey Airport's trading concern would be that any technical faults will force cancellation of flights and thereby depress airport revenues."