Guernsey Airport radar testing noise warning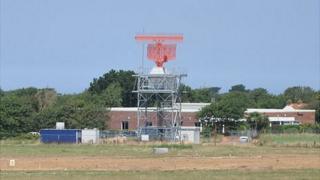 Aircraft noise could increase during testing of a new radar system, Guernsey Airport's director has warned.
Colin Le Ray said the flight trials were likely to last until Thursday or Friday.
He said: "Most of the flying will be conducted offshore at some distance, but invariably some flying will be required overhead."
The £3.25m tower is due to come into use in December with the old tower being decommissioned in the summer.
The testing will be carried out by a small twin-engine aircraft flying at various altitudes to confirm the new radar system is working correctly.