Guernsey States broadcast controls may end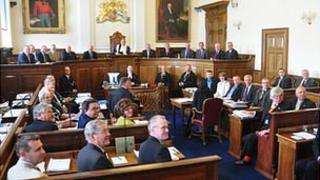 Restrictions on the broadcasting of States meetings could be removed next year, according to a politician.
Currently States of Deliberation and States of Election meetings can only be heard from the public gallery or by listening to BBC Guernsey on 1116 MW.
If restrictions are removed it could allow the meetings to be streamed online as audio or possibly video.
Deputy Matt Fallaize said if controls were ended it would be up to local broadcasters what they provided.
He said there was currently no plan for the States to host an online stream but the aim was to make the meetings "as open and as accessible as possible".
Deputy Fallaize, chairman of the States Assembly and Constitution Committee, previously said he hoped online streaming would be an option by the start of 2014, but he now believes it will be later next year after a "frustrating delay".
A Policy Council spokesman said the delay had been caused by a consultation process into reworking departmental responsibilities, including giving the committee power over States broadcasts, taking longer than planned.
The proposal to shift responsibility is due to go before the States in November.