Guernsey prisoner parole change planned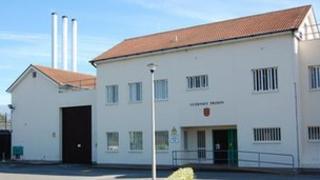 Prisoners in Guernsey will have to spend longer in prison before they are able to apply for parole if plans by the Home Department go ahead.
The proposal will go to the States of Guernsey next spring, suggesting that inmates serve half their sentence before being to apply for parole.
Currently prisoners must serve a third before they are eligible.
Mark Lempriere from the Home Department said it would lower prisoner numbers in the long term.
He said it would be more likely prisoners were given parole halfway through a sentence than a third.
Les Nicolles is the only prison on the island and can hold 128 prisoners. It reached a record high in 2012 of 117 and currently holds 101 prisoners.
David Matthews, prison governor, said temporarily it would lead to an increase in prison population, which he said could cause problems but lower prison population over time would make education and other services easier.