Guernsey Arts Commission looks to improve music funding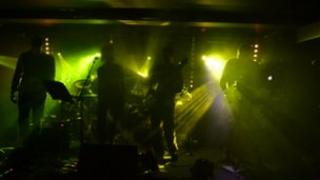 The Guernsey Arts Commission has promised to review its funding and promotion of island musicians after hearing their concerns.
The commission met with musicians on Monday night, in what the head of arts development called a "litmus test".
Joanna Littlejohns said the meeting was prompted by a marked increase in the number of artists applying for funding.
Musicians raised concerns about suitable venues and support for touring.
Ms Littlejohns said the commission would review off-island travel grants and search for alternative rehearsal spaces.
Pop-up venues
Musicians are able to apply to the commission for a £75 grant to help with the cost of touring in the UK or Jersey.
Ms Littlejohns said: "We probably should up it a bit."
She said the commission was searching for sympathetic landlords in order to identify pop-up venues, empty shops which could be used for gigs.
Russ Fossey, chairman of the music sub-committee at the commission, said he would investigate the use of schools and community halls as rehearsal spaces.
The review will also include an upgrade to the commission's website, in order to allow musicians to upload samples of their music and videos.
Ollie McVey of Guernsey band Bright Lights, which closed this year's Vale Earth Fair, said most up-and-coming bands relied on promoting themselves through social media until they became established in the island.
"There are a lot of tools, applications and software out there which allow you not only to promote your music but publish it yourself," he said.
However, Scott Michel, a band member with Static Alice who has promoted gigs in the island for many years, said: "The main problem is an underage venue.
"There's nowhere for the under-18s to come and watch live music."
Mr Fossey said musicians had raised this issue at the meeting and the commission would look into it.
Ms Littlejohns said the commission's funding of popular music over the last five years had totalled £77,625, which represented 15% of its total funding.
The commission's money comes from its own fundraising efforts, in addition to grants from the Culture and Leisure and Commerce and Employment departments.