Wreath hoisted in Guernsey in memory of Sir Isaac Brock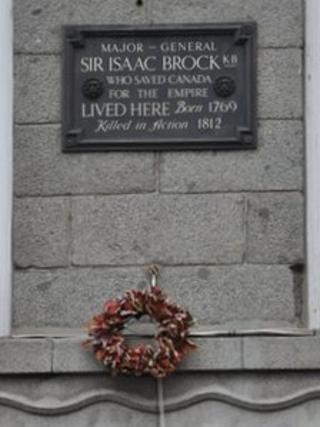 A wreath-laying ceremony has taken place to mark the 201st anniversary of the death of a Guernsey-born major general.
Sir Isaac Brock is best known for leading the British to victory over the Americans in the War of 1812.
The Guernsey man, dubbed the Hero of Upper Canada, died leading a charge at the Battle of Queenston Heights in Ontario.
The wreath was hoisted up next to the plaque on the general's former home.
A prayer was also said by the dean of Guernsey during the Sunday service in the Town Church.
Last year several commemoration events were held on the island for the 200th anniversary.
These included a parade, wreath laying and church service.
The Prime Minister of Canada Stephen Harper wrote a letter to Richard Collas, the Bailiff of Guernsey, in which he said Sir Isaac's "sacrifice was not in vain".