Guernsey population control policy: Public vote urged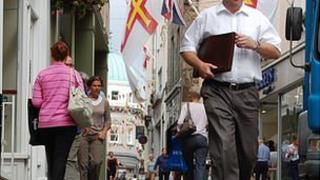 A call for a public vote on Guernsey's population control policy has been made by two former deputies.
More than 40 measures to change the way the island's population is managed were passed by the island's government in June.
Graham Guille and Gloria Dudley-Owen say not enough detail has been given about the changes.
Mr Guille said it was such a fundamental change for people's rights it should be put to a public vote.
He said: "I would like to see some sort of poll, an opportunity for residents to have a say in this before the changes become absolute."
Under the new system there are eight and 14-year milestones for those living in the island to qualify for residency.
It involves short, medium and long-term work permits for one year, five years and eight years respectively.
Ms Dudley-Owen said her biggest concern was that many people still did not realise how far-reaching the changes would be.
She said of the people she had spoken to about the policy: "All of them had no idea that in future their locally born children would not be classified as local if they left the island before completing the 14-year period.
"I do not believe we have reached out into the population with the fundamental changes that are going to happen."
To earn the lifelong right to residency under the new system people will have to live in the island for 14 years, either in local market properties or in the open market if they are aged under 18 when they move to the island.
Mr Guille said his goal was to encourage islanders to speak to their deputies about the issues and ask for more information.