Guernsey parents' association criticises school closure plan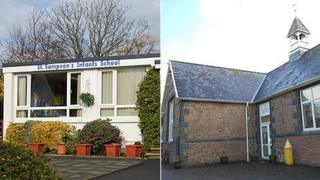 A presentation about plans to close a primary school has been described as completely unprepared by the chairman of a parent-teacher association (PTA).
The Education Department has proposed closing St Andrew's Primary and outlined plans for how the closure will work to parents.
But Charles Swainston from St Andrew's PTA said he had been given little assurance the plans could be delivered.
The department is also proposing to close St Sampson's infants school.
"One area that has not been covered is pastoral care and the increase in class sizes," Mr Swainston said.
"We don't accept the proposals put forward on pretty much every ground. We appreciate money has to be saved but we don't believe this proposal will achieve that.
"Some of the ideas expressed in the proposal seem hugely expensive including loads of rebuilding."
Pastoral care
Guernsey's Director of Education says his department is confident it can close St Andrew's Primary School without harming pupils' education.
Alan Brown said it was a difficult message to deliver and some may not like what they hear.
He said: "The census of the pupil population is just being completed and up-to-date modelling is taking place of where pupils can go if the closure is approved by the States.
"We will also work with parents over how they would like to see their children reallocated.
"There will need to be some investment to accommodate pupils moving but there are significant recurring savings to be made by the education department."
Five PTAs met last week to discuss the proposed closure of St Andrew's primary and St Sampson's infants schools.
Representatives from the PTAs agreed that joint meetings were good for the school communities and they should be repeated.