Guernsey school breakfast clubs 'improve performance'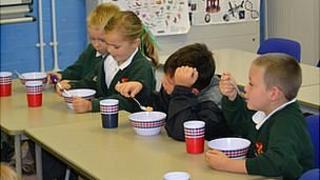 School breakfast clubs have led to a noticeable improvement in some pupils' performance, according to two Guernsey head teachers.
Diane Hand, from La Mare De Carteret Primary School, said its scheme was launched two years ago.
She said in some cases those children who had breakfast had improved their engagement and level of concentration.
Amherst Primary School has seen similar results in a trial scheme running just on Thursdays and Fridays.
Head teacher Tracey Moore said it had been run for four weeks so far and the school was already seeing positive results.
She said one example was a child who would not eat breakfast at home who was now eating it every day after having been encouraged by eating with her fellow pupils.
The Education Department would not comment on the issue.
Denis Mulkerrin, former head teacher and non-voting member of the department's political board, said it was something other schools should consider it if there was a need.
He said studies had found eating a proper breakfast helped children to learn better and they were also better behaved and more sociable.
Mr Mulkerrin said the island's high house prices and cost of living meant the "financial pressure" for both parents to be at work was higher than elsewhere so the clubs could help families in this situation.