Maori head in Guernsey museum to return to New Zealand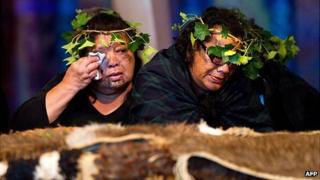 The preserved head of a tattooed Maori warrior, held in a Guernsey museum for more than 100 years, is to be returned to New Zealand.
The head was part of one of the 19th Century collections of antiquities that formed the basis of the island's museums service.
Its return is part of a repatriation programme being run by the National Museum of New Zealand.
The head is due to be handed over to officials in a ceremony on 21 October.
Under Maori tradition, intricate facial moko (tattoos) were inscribed on the faces of chiefs and warriors.
After death, the head - considered the most sacred part of the body - was smoked and dried in the sun for preservation.
During wars between tribes the heads of enemies would be taken as trophies.
In the late 18th Century, Europeans started to buy them as curios.
The sale of Toi moko (preserved Maori tattooed heads) was banned by the governor of New Zealand in 1831 but it continued illegally for almost a century.
'Offensive to display'
Dr Jason Monaghan, director of Guernsey Museums, said: "We do not know who exactly acquired it but antiquities were routinely exchanged between collectors and scholars, so this is probably how this came to be in Guernsey.
"It has been in our store for several decades now, as it is considered offensive to even display a photograph of a Toi moko."
Seven other Toi moko and five koiwi tangata (Maori skeletal remains) from four institutions in the UK and Ireland are also due to be repatriated this month.
In 2003, a project run by Te Papa Tongerewa (New Zealand's National Museum) was set up with the aim of returning ancestral remains held in museums and institutions around the world to New Zealand.
Dr Monaghan said: "I became aware of the [repatriation] campaign at about the same time as we were auditing our stores, trying to decide what we should keep and what we shouldn't.
"We wrote to Te Papa... they were really pleased we did as sometimes they have to hunt these down through detective work.
"This is taken really seriously in New Zealand. There's a delegation coming over from Te Papa including Maori elders, the New Zealand high commissioner [to London] is coming and there will be a ceremony at Castle Cornet."
He said the Maori would be putting on a free public seminar the day before, including demonstrations of Maori musical instruments and a talk about the repatriation programme.
Te Papa estimates there are 650 ancestral remains held around the world, with the majority of these in European institutions.