Channel Islands Christmas Lottery ticket price doubles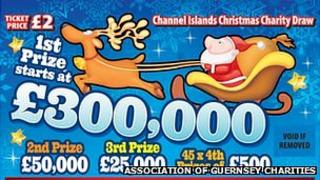 The price of tickets for the Channel Islands Christmas Lottery has doubled to £2.
The new tickets have gone on sale and each have two numbers on and a scratch card section.
A spokesman from Guernsey's Culture and Leisure Department said the change was aimed at helping to increase how much money goes to charitable causes.
It follows poor ticket sales in the summer lottery and a fall last year in ticket sales in the Christmas lottery.
The Channel Islands Summer Lottery was introduced in 2012, but failed to capture the public's imagination and this summer was only run in Jersey with similar poor sales.
Profits from the lottery, which is due to be drawn on 19 December at Beau Sejour Leisure Centre in Guernsey, will be shared between the charity associations in Guernsey and Jersey.
From the profits from the 2012 draw, which are shared in proportion to the number of tickets sold in each island, more than £190,000 has been given to Guernsey charitable groups and more than £420,000 to Jersey groups.
As well as the rising first prize, which starts at £300,000, there will be a second prize of £50,000, a third prize of £25,000, 45 fourth prizes of £500 and scratch card game prizes ranging from £2 to £5,000.
Malcolm Woodhams, vice chairman of the Guernsey association, said: "Local charities are always extremely grateful to everyone who helps to make the Christmas lottery a great success by supporting the traditional draw."
Philip Callow, chairman of the Jersey association, said: "We could not continue our work of helping our member charities without it."