Guernsey Bluebell Wood work to go ahead after bomb delay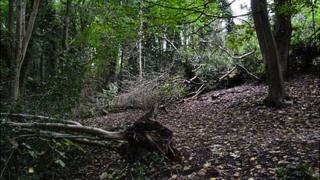 Work to remove fallen trees from a Guernsey wood, delayed by the discovery of a World War II bomb, is due to go ahead this week.
The operation at Bluebell Wood is due to take place from Monday to Wednesday.
More than a 100 trees fell across the island, during heavy snowfall and high winds in March.
The aerial sea mine dropped on the island in 1944 was removed by the Royal Navy and Guernsey Police bomb disposal teams before being detonated at sea.
An Environment Department spokesman said during the work, the footpath to Fermain Road and the Military Cemetery would be closed, but the cliff paths would remain open.
He said the work had been timed to take place while the bluebell bulbs were dormant, to minimise damage to the flowers.