Shot buzzard critical but recovering, says Guernsey animal charity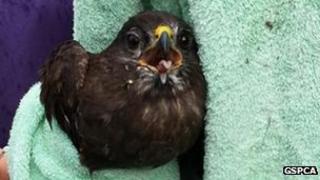 A bird of prey is recovering after it was shot with an air rifle.
Guernsey's Animal Shelter, which rescued the buzzard, said it was injured by an air gun or rifle pellet in its right shoulder.
Steve Byrne, of the shelter, said the bird was in the shelter's intensive care unit but was "responding well" to treatment.
A Guernsey Police spokesman they had been informed, but were not currently investigating.
Mr Byrne said: "We are appealing for information for anyone who knows anything about this case as without doubt this poor bird had been suffering for sometime before we were able to rescue him."