Jersey telecom company drops Guernsey phonebook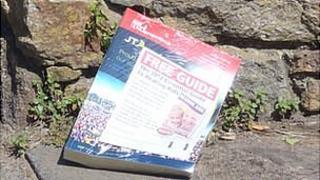 There will only be one Guernsey phonebook published in 2014 after telecom company JT decided to move online.
The company says that the 2014 Guernsey Directory will move fully online, following what it calls "market trends, customer feedback and research".
JT published a Channel Island phonebook for the first time in 2012.
Sure, the main carrier in Guernsey, publishes a separate directory for the Bailiwick.
JT said it was committed to producing a printed directory for Jersey, and pan-island contact details will be available online.
Paul Taylor, managing director of JT (Guernsey) said: "More and more islanders are using digital sources such the directory website, and for a company that prides itself on being at the heart of the community that it serves, it is important for us to listen to customer feedback and adapt to it."
JT had faced criticism for publishing the phonebook in Guernsey. It had to agree to collect unwanted copies from all Guernsey homes after residents complained.