Long-term CI ferry licence talks 'constructive'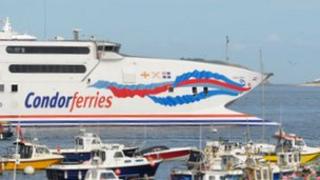 Condor Ferries has described talks with Jersey and Guernsey on a longer-term licence as "extremely constructive".
Chief executive James Fulford said significant investment was needed in the company's fleet but this would depend on certainty over the future.
The ferry operator, which ships vehicles, passengers and freight between the UK, France and the Channel Islands, is licensed until 2018.
Mr Fulford said: "We would love to invest in new vessels."
"We're working extremely constructively - particularly in Guernsey - on the idea of looking at a longer-term licence," he said.
"The States of Guernsey have been very supportive, as have our colleagues in Jersey."
Delays and cancellations
Mr Fulford said a new £50m fast ferry was urgently needed and a second would also prove necessary before long.
"In any business, if you're going to make that sort of investment, you want a bit of time to have a chance of making a return on that," he said.
Condor Ferries has had to cancel or delay sailings frequently over the last two years due to engineering problems with its fleet.
Mr Fulford said any new boats the company might buy would have to be compatible with Channel Island harbours, which dated back to the 18th and 19th Centuries.
Guernsey harbour master Capt Peter Gill admitted significant investment was needed in St Peter Port's infrastructure.
He said 21st Century operations were being carried out with 20th Century equipment in 19th Century surroundings.