Guernsey skate park compulsory helmet rule expanded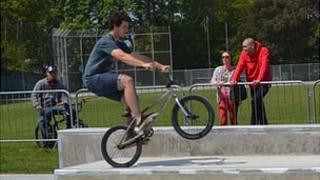 Safety helmets will have to be worn by anyone aged under 16 who wants to use Guernsey's skate park.
The Guernsey Extreme Sports Association agreed the change at a recent meeting after concerns were raised by parents.
Currently those aged under 10 have to be accompanied by an adult and wear a helmet. The extension of the helmet rule will take effect from 19 October.
Chairman Mike O'Hara said: "Not all members will be happy... but we believe it is a responsible approach to take."
He said the decision followed a "constructive debate" with members, concerned parents and others such as orthopaedic surgeon Ranjan Vhadra and Headway - a charity that supports those living with the long-term effects of a brain injury.
Mr O'Hara said: "The association has been aware of the possible risks of head injuries since the skate park opened.
"Extending the age group to 15-year-olds is a sensible compromise to make, reflecting that many members are adults and must be responsible for making their own decisions."
The association initially plans to carry out four or five checks every day to make sure users of the park are abiding by the rules on head gear.
Mr O'Hara said: "If someone is consistently abusing the rules, they'll have their membership card taken away but we're hoping it won't come to that."
People have to be members of the association to use the skate park, which opened in June in Cambridge Park after 11 years of planning and fundraising.