Future of Guernsey's town centres 'mapped out'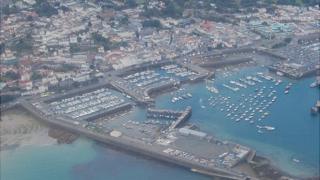 The need for more housing and parking are among the priorities of a plan for Guernsey's two main town centres.
The Vision, a 20-year plan for the buildings and harbours in St Peter Port and St Sampson, was commissioned by the States.
Its suggestions include building a road bridge over St Sampson's Marina and moving the bus terminus to North Beach.
The team behind it said the aim was to stimulate discussion and it was not a blueprint for development.
Chairman David Falla said: "The island's two main centres currently present many attractive features, but also there is much to do to improve the towns and harbours for all islanders to enjoy."
He added: "The idea is to create a framework so when States departments make future investments there is a coordination set in place and it is a signal for private investors to invest in Guernsey to help the economy and deal with the urban pressures we have.
"There is not a shortage of cash for investment from the private sector, the main problem at the moment is the availability of sites on which to make those investments."
Mr Falla said there were many issues such as the provision of housing, making public squares more attractive, a lack of parking and increasing cycle ways and pedestrian ways.
By moving the bus terminus to North Beach and making the parking there underground it would allow a "transport hub" to be created with the passenger ferry moorings and taxi rank nearby, he said.
This would allow the space currently occupied by the terminus to be developed as hotels, restaurants and shops, said Mr Falla.
Of the Bridge in St Sampson's he said: "One of the problems...is the conflict between parked cars, through traffic, local traffic trying to shop and at times it can be quite congested.
"The long-term future plan, maybe associated with the plans to move some of the harbour operations further out, could be linking the Crocq to the North Side.
"Then you could arrange matters so that through traffic avoids going through the Bridge so making opportunities for pedestrian areas and a more attractive plaza for the bridge."
The Vision was created by a group which includes Environment Department staff, the harbour authority, parish officials, the Town Centre Partnership, traders and church groups, and was set up following the approval of the Strategic Land Use Plan.