Guernsey minister says about £50m needed for sea defence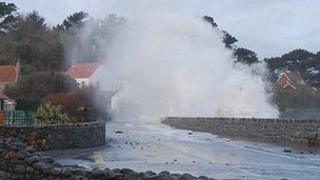 About £50m is needed to fund all of Guernsey's coastal defences, according to the deputy environment minister.
States members have agreed to spend about £20m to protect the highest priority areas, including Belle Greve Bay, St Sampson's Harbour, Perelle and the town seafront.
Deputy Tony Spruce, who is responsible for sea defences, said more money would be needed.
He said they would need to review the options before applying for money.
Greg Guthry from sea defence consultant Royal Haskoning said it would cost more not to repair the defences.
He said: "When you stand there on the coast and see a big storm hit, you realise you don't mess about with the coast.
"The forces and level you have to construct defences to are very large.
"When you are building with rock you have to make sure it is a suitable size and it is heavy engineering dealing with those forces."
David Parish, a member of the island's Coastal Defence Project Group, said while there was more to do, the island was is in a good position to prepare for such an event.
He said the States had made contingency plans to cope in the event of coastal flooding, with the worst case scenario involving the low lying areas of the north of the island.
Richard Lord, from campaign group Sustainable Guernsey, said the strategy was a good move for the island.
He said: "If you look at the climate studies sea level rises take a long time to get going, but when they get going they don't stop. Like King Canute standing on the sea shore, you can't stop a rising tide.
"What we are doing now is a good sticking plaster. The real problem is that our carbon dioxide levels are too high, they need to go down but that would take a global effort.
"We need to look to the future. In 500 years from now people will look back and ask what we could have done to reduce carbon emissions, if we do nothing you can say goodbye to Guernsey."