Minister denies Guernsey school closures are to save cash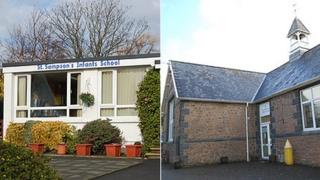 Closing two primary schools in Guernsey is not just about saving money, a senior politician has insisted.
The Education Department has proposed closing St Andrew's Primary and St Sampson's Infants School.
Although it would save an estimated £800,000 a year, Education Minister Robert Sillars said the main aim was to improve education.
Previous plans to close the schools four years ago were rejected by deputies.
PTA campaigns
An education report "Transforming Primary Education" has argued in favour of fewer, larger schools which could ensure pupils had a greater range of specialist knowledge.
However many parents have criticised the closure plans and claim it is more about money than education.
Members of both schools' parent-teachers' associations have started a campaign to keep the schools open.
But Mr Sillars told BBC News: "I don't know how many times I have to say this, but my board has always said it will not make cuts for the sake of pure finance."
If members of the States of Guernsey approve the proposals, St Sampson's will shut in 2014 and St Andrew's the following year.