Campaign to save Guernsey school 'energised by support'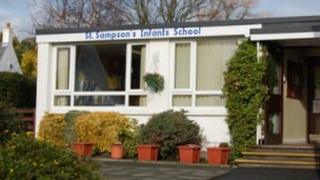 The newly-elected head of a Guernsey school PTA facing closure says there is overwhelming support for a campaign to save it.
James Seymour, the father of a child at St Sampson's Infant School, said more than three times the usual number of people attended Wednesday's AGM.
He said they intended to show the educational and economic justifications for closing the school were flawed.
The Education minister has pledged to meet members of the PTA.
The school - the only one in Guernsey to educate children from reception to year two only - will be closed, along with St Andrew's Primary School, if deputies approve the Education Department's plans at their meeting on 30 October.
Parents were informed of the proposed closures by letter on 19 September.
The department's report, Transforming Primary Education, argues in favour of fewer, larger schools, which accept two or three classes of pupils each year.
It says the closures will save up to £800,000 every year and ensure a greater range of specialist knowledge is made available to students.
Mr Seymour said: "We believe the department's arguments are flawed.
"We now need to focus on preparing as strong and accurate a case as possible.
"Clearly this is a huge task given the lack of time given to us by the department."
The two schools were threatened with closure in 2009 but deputies voted to retain them.