Two Guernsey Catholic primary schools face merger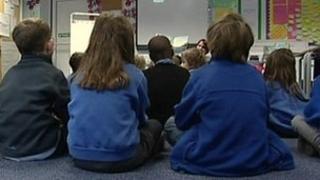 Two Guernsey Catholic primary schools could be merged, the Education Department has said.
Combining Notre Dame du Rosaire and St Mary & St Michael primary schools would be better for the pupils and more cost-effective, say officials.
Senior Catholic officials in Guernsey do not believe any changes are needed.
A meeting is being held for parents at Guernsey Grammar School on 15 October, when the department will discuss the plans.
The department said it wanted to "reassure parents" that it did not want to reduce Catholic schools provision in the island and it recognised the "valuable contribution" they made.
Officials are also proposing to close Sampson's Infant School and St Andrew's Primary School to save more than £800,000 a year.
Education Minister Robert Sillars said it was "not just about money" but creating larger primary schools, which helped to improve standards.
He said the move was part of the department's strategy to ensure all primary schools have two or three classes in their entry years, rather than just one.