Guernsey deputies to debate overhaul of benefits system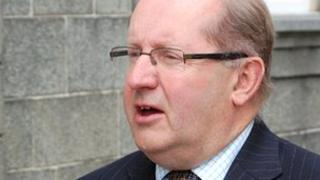 Guernsey's benefits system could be subject to a radical overhaul if deputies agree to proposals by the island's Social Security Department.
Under the proposals, supplementary benefit would be scrapped and replaced with an income support system.
In addition, rent rebates for those in social housing would cease, with tenants instead becoming eligible for income support.
The changes have been estimated to cost £3.75m, give or take 10%.
Social Security Minister Allister Langlois said: "It will move people who are on supplementary benefit into the realms of being a little bit more comfortable, without costing the taxpayer a fortune."
The introduction of income support would cost considerably more than the current supplementary benefit payments but this would be largely offset by the cessation of social housing rebates, which currently cost £11.8m annually.
The department attempted a similar overhaul in March 2012, under then minister Mark Dorey.
This was rejected by the States following concerns about costs.
Means testing
These were estimated at the time to be "between £8m and £20m".
Deputy Langlois said the department had completed sufficient preparatory work to ensure its figures were now more specific.
He indicated he would look to fund the changes by looking at the possibility of means testing for some other benefits.
"There are clear indications of a political will - around and about - to reduce the receipt of universal benefits by those who are better off," he said.
Deputy Langlois said family allowance and the payment of medical prescriptions for those over 65 were likely targets but such measures are not included in this set of proposals.
States members will debate the overhaul at their meeting on 30 October.
They will also be asked to approve annual increases to pensions and benefits of 2.1%, in line with Guernsey's inflation rate for the year ending June 2012.
However, it is proposed the winter fuel allowance be increased by 7.4% - in line with the fuel, light and power element of inflation - and the department is recommending family allowance be frozen.