Alderney States defends work on immigrants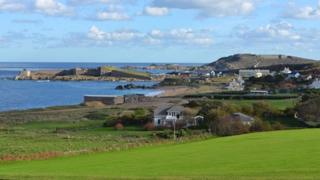 Alderney is doing enough to encourage immigration to the island - but private initiatives are useful, according to one States member.
Resident Ken Hampton recently spent £1,000 of his own money to promote the island as a home with an advert in The Daily Telegraph newspaper.
Tourism Committee chairman Neil Harvey said private initiatives and advertising were always welcome.
However, he said the issue was not just about immigrants but about jobs.
Mr Harvey said: "If we can get that increase in jobs we can start to attract families back and start to rejuvenate the school, which is obviously very important to us."
The island's population has fallen by nearly 400 to 1,903 in the last 12 years according to a census carried out early this year.
'Driven by islanders'
Mr Hampton, who placed the ads, said without an influx of people there would not be enough people to support the on-island businesses in the future.
He suggested the States was unwilling to talk to him about his suggestions.
Mr Harvey said he was sorry Mr Hampton felt like that and States members wanted residents' input on the plans they had been working on since June.
He said: "We need ideas from everybody and, in fact, quite a bit of business development and economic regeneration is being driven by islanders themselves."
He said the States welcomed Mr Hampton's advertising and hoped it would encourage people to the island.
But meanwhile, he added, the States was developing more of the behind the scenes organisation needed to get more people to move to the island.