Channel Islands-UK relationship 'an ongoing process'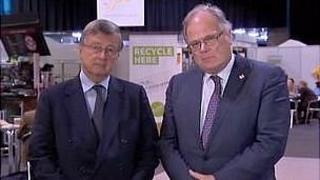 Progress is being made in convincing UK politicians the Channel Islands are not "tax havens", Guernsey's chief minister has said.
Deputy Peter Harwood and Jersey Senators Sir Philip Bailhache and Philip Ozouf have attended the Liberal Democrats conference in Glasgow.
Last week the UK Prime Minister David Cameron said the islands should not be labelled as tax havens.
Deputy Harwood said enforcing that message was an ongoing challenge.
He said: "The Lib Dems are not our natural allies and there are a number of people within the party at quite a senior level who are still very sceptical about anything that is offshore.
"[We're] part of the solution to the economic problems and not the problem and we have to continually put that message out."
'Accept the truth'
Senator Ozouf, Jersey's Treasury Minister, said one message they were trying to get across was the result of a report by consultants Capital Economics.
He said: "It indicated about 5% of foreign investment in the UK came from Jersey, about £120bn of capital goes into the UK banking system... and overall the investment by Jersey into the UK supports about 180,000 jobs, which adds £9bn to the UK economy."
Both island's governments plan to attend the Conservative and Labour conferences.
Deputy Harwood said: "We are making progress, there are one or two reactionary people in every party who will never accept the truth."
He said the islands' governments made use of the conferences to have one-to-one meetings with senior party members and members of the European Parliament.