Guernsey bus drivers given revised pay offer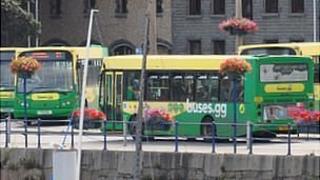 A revised pay offer for Guernsey bus drivers has been made following further talks between the company and staff.
Union representatives, drivers and operator CT Plus met on Monday.
In April, drivers rejected the company's initial pay offer as it had conditions attached. Drivers are also seeking a cost of living pay rise.
The pay discussions are separate from the ongoing dispute about working conditions and hours, which saw drivers vote for two days of strike action.
The industrial action, due to be held on Wednesday and Thursday last week, was called off less than 24 hours before it was due to start.
It followed an agreement between the company and drivers for more regular meetings and communication.