Herm to Guernsey ferry luggage swept overboard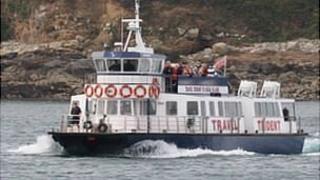 Bags belonging to passengers of a ferry were swept overboard when the boat was diverted to help a yacht in distress.
The Travel Trident ferry left Herm for Guernsey at 14:35 BST on Sunday and had about 180 people on board.
Director Peter Wilcox said several large waves hit the boat as it turned to help a yacht, at the request of Guernsey Coastguard.
It is not known how many bags were lost. No-one on the yacht was injured, Mr Wilcox said.
A number of Travel Trident sailings were cancelled on Sunday with winds forecast to reach force seven or eight.
Mr Wilcox, who apologised to those who lost luggage, said a combination of a reduced service, the end of the camping season, the island's Beer and Ale Festival and a wedding reception meant the crossing was very busy.
He said the crew struggled to find space inside the boat to store luggage without blocking emergency exits, so some had to be stored at the bow of the boat.