Fishermen haul in Spitfire part off Sark coast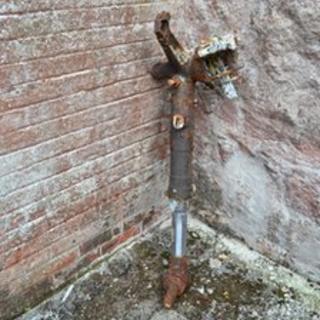 A group of fishermen have hauled in part of a World War II Spitfire from off the coast of Sark.
It is thought the piece of undercarriage is from the wreckage of a plane which crashed there in 1943.
Guernseyman Rob Falla, who was on the trip and has taken ownership of the relic, said he wanted to find it a home in one of the Bailiwick's museums.
There has been interest from private collectors but he said: "It would be nice if it could go on public display."
Mr Falla said he only joined the fishing trip because he had supplied an engine for the boat.
Identifying tag
When the part was pulled up from the sea bed, he asked if he could keep it.
"There was a bit of muttering and mumbling because it's another thing to lie around on a deck while you're busy," he said.
Once he began to clean the barnacles from the metal part, Mr Falla found an identifying tag and was able to find out more about the aircraft it had come from.
Aviation historian and Guernsey resident John Goodwin said the Spitfire was one of a formation of 23 which attacked German shipping in St Peter Port harbour on 14 May, 1943.
Guernsey and Sark were under German occupation from 1940 to 1945 and both islands were heavily armed and fortified to ward off any threat of attack by allied forces.
'Wall of flak'
Mr Goodwin said the aircraft was hit by heavy German anti-aircraft fire during the raid.
Armed trawlers off Alderney - to the north - had spotted the Spitfires and warned forces in St Peter Port by radio of their approach.
"They put up a tremendous wall of flak - both from the shore and from all the ships in the harbour," he said. "One of the pilots... said he didn't really think any of them were going to get through this."
However, the pilots selected their targets and fired on them before flying out over the town of St Peter Port and the fortifications of Fort George.
It is thought the plane found by Mr Falla was piloted by Czechoslovakian pilot Jaroslav Novak.
His aircraft was seen to be badly damaged early on in the raid and was lost during the encounter.