Sir Isaac Brock statue at Guernsey markets approved with time limit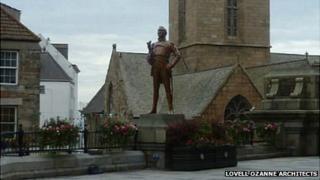 Permission has been given for a statue of a Guernsey military hero to be built on a plinth next to the island's markets building.
However, the statue will only be allowed to stand for two years.
The Environment Department ruled it needed to measure the impact the 7ft 4in (2.2m) bronze figure of Major General Sir Isaac Brock would have.
Distant relative Oliver Brock said the time limit was disappointing, but he was confident it would stay permanently
'Welcome addition'
The department said it wanted to be able to monitor and control the impact of the statue, as well as consider whether there was a more suitable site.
Mr Brock, the founder of the Brock Memorial Foundation, said: "We are confident that once the statue is erected it will be a welcome addition to the townscape.
"We will be applying to vary the condition in due course to ensure that it becomes a permanent feature.
"We would hope that Brock's likeness will become part of a wider assembly of figures that might include other notable local characters."
Gen Brock was born in Guernsey and made a major contribution to paving the way for Canadian statehood by repelling American invasion during the War of 1812.
The Guernsey-born general's greatest victory was at the Battle of Detroit, for which he received his knighthood, but he is most associated in Canada with his heroic death at the Battle of Queenston Heights on 13 October 1812.
The cost of the statue has been estimated at £80,000, half of which has been raised.
Toronto-based sculptor Adrienne Alison, who has been awarded the commission to design and install Canada's new War of 1812 Memorial on Parliament Hill in Canada's capital Ottawa, has previously said work on the Brock statue was "substantially complete".