Guernsey bus drivers' strike action averted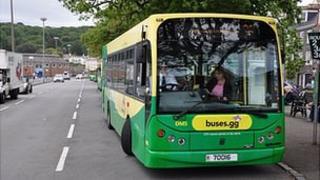 A planned two-day strike by Guernsey's public bus drivers has been called off.
The industrial action was cancelled following a meeting held between the drivers represented by the union Unite and bus operator CT Plus earlier.
Drivers had planned to strike over ongoing issues with rotas and working hours.
The action, due to take place on Wednesday and Thursday, was voted for by drivers on Sunday.
'Nothing changed'
Kevin Hart, general manager for CT Plus in the Channel Islands, said: "There were a few issues, the main one being a slight change in duty cards - that's the shift process that drivers carry out every day.
"We had three additional journeys that we needed to add on so there was a slight change to the ones that were agreed in July.
"We've looked at that change and come to a solution."
He said "nothing's really changed" but the company and drivers had agreed in writing to more regular meetings and communication.
Mr Hart said discussions were continuing over putting something in place to cover the lack of strike legislation in Guernsey.
Public apology
He said currently drivers could announce a strike with little or no notice.
Mr Hart said: "We're going to re-look at the recognition agreement we've got with the union and come up with a more robust dispute resolution system.
"We can just apologise for any inconvenience and unrest this may have caused over the last few days."
Drivers' duty cards are due to change in October when the winter timetable comes in.
Mr Hart said this would be discussed with drivers before the final version was agreed.