Talks fail to avert Guernsey bus driver strike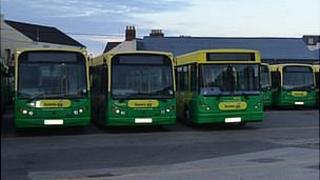 Talks held on Monday evening aimed at avoiding a strike by Guernsey's public bus drivers have failed.
Drivers have voted for industrial action on Wednesday and Thursday over a dispute about duty cards and working hours.
CT Plus, the bus operator, claims the action is "out of all proportion to the issues at hand".
Bob Lanning, from the Unite union, represents the drivers and said he was disappointed the talks failed.
He said: "We went to the company with eight points, the company conceded on the majority of these points and I honestly thought we were talking and we would resolve the issue, but the drivers are adamant.
"It doesn't matter what I bring back they've lost faith in CT Plus.
"The union does not call the strike on this island due to the [lack of strike] legislation, this is down to the drivers, so it makes it difficult that I can't even call off the strike.
"If they go on strike for two days this week the company will face financial penalties from the States of Guernsey and that's going to make it very, very difficult if not impossible for me to secure a pay award."
He said he expected the majority of the 50 staff to strike, but as they had not been balloted he could not give exact figures.
'Frankly unacceptable'
It is not yet clear if any public bus services will run.
CT Plus also operates 41 of the 75 dedicated school bus services, carrying an estimated 1,500 students daily, and it is not yet known if they will run.
In a statement the company said: "There is a hardcore group of drivers who have unilaterally rejected the progress made in talks today and are planning to press ahead with their strike.
"We call on drivers to get back round the table directly as there is still time to resolve this.
"We will be working tirelessly to see what kind of service we can provide, with our main focus being schools."
Environment Minister Roger Domaille, whose department appointed CT Plus and oversees the service, said: "Any strike is serious, but one that is affecting the travelling public causing unnecessary concern and worry is frankly unacceptable."