Guernsey's slaughterhouse closes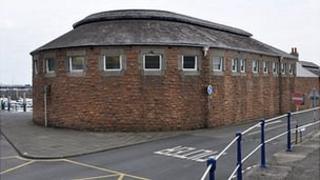 Guernsey's slaughterhouse has closed as testing of its £2m replacement gets under way.
The current site at the Castle Emplacement has been used for more than 150 years.
David Chamberlain, the States vet, said: "It was getting to the point it was like an old car... more difficult to maintain than it was to run."
The replacement has been built at Longue Hougue, next to the carcass incinerator.
Speaking of the old slaughterhouse, Mr Chamberlain said: "The internal walls were sort of a granite rubble construction, very, very difficult to keep clean.
"The flooring had had to be replaced, a big chiller had had to be put in there.
"I think the final straw was probably the roof needing to be repaired and some of the costs coming into that were almost half a million pounds."
Ray Watts, a beef farmer, said the coming few months would be an uncertain time for the small number of farmers who rear beef.
He said meat from dairy cows may lead to an excess of cheaper meat, which would cut the demand for prime cuts of beef and impact on farmers' incomes.
However, Mr Watts said it could also be good news for the industry as meat export will be allowed to both the UK and Europe.
Mr Chamberlain said: "In some respects it's a return to the past, historically the old Guernsey dairy cow at the end of her life would have gone into the human food chain.
"These animals [are currently] incinerated... [but] would normally have appeared on the market in Guernsey 20 years ago.
"Because of BSE and various European regulations that was impossible as the old slaughterhouse simply couldn't manage the procedures necessary to get that meat into the human food chain - now the new slaughterhouse can do that."