Guernsey bus drivers to strike for two days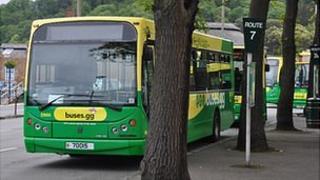 Guernsey's public bus drivers have agreed to a two-day strike in a dispute over working hours.
The action, to take place on Wednesday and Thursday, was agreed at a meeting on Sunday evening.
Unite official Bob Lanning said he was not at the meeting but he would be talking to drivers in the hope of avoiding the industrial action.
He said: "It would seem to be about the duty cards, the hours the drivers are working, but I need specific detail."
Mr Lanning, who is based in the UK, is flying to the island later on a pre-arranged visit to discuss the drivers' ongoing dispute over pay.
In a statement bus operator CT Plus said: "We are still awaiting information on grounds for the strike, but we understand that this relates to shift patterns.
"Shift patterns have remained as agreed to in July - with three minor changes to bring additional school services to Perelle which were consulted on with the union last week.
"This action is unilateral and has not been conducted through or supported by the union, with whom we have been consulting and negotiating.
"We find this proposed action entirely unnecessary and call on drivers to listen to their union, call off their strike and talk through their issues rather than threatening to disrupt islanders' lives."