Guernsey bus drivers meet to discuss strike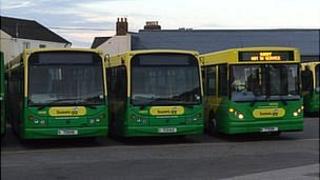 Guernsey's bus drivers could strike on Wednesday over an ongoing dispute over pay and rotas.
Drivers took industrial action on 10 June in protest at working conditions and hours after new routes and a new timetable were introduced in May.
Bob Lanning, from union Unite, said the drivers were meeting on Sunday evening.
He said after that meeting he would be talking to drivers and hoped another strike could be avoided as negotiations over pay and duty cards were ongoing.
Mr Lanning said he was due to meet with the operator CT Plus on Thursday.
He said: "I can understand people's frustrations... the next big change in duty cards won't be before the winter timetable comes out [on 7 October].
"The agreement from the company is that those duty rosters will come to the union first and they will negotiate changes we highlight.
"It's a bit pre-emptive to start declaring strike action on Wednesday, I hope by coming over [to the island] on Monday I can still talk to them... I don't think we're at that stage yet."