Guernsey bus provider financially penalised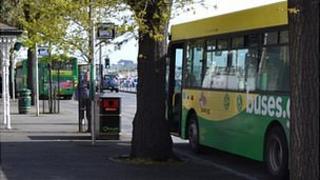 Guernsey's bus provider CT Plus has been penalised financially for dropping services.
The company was due to receive a £2m States subsidy during 2013, but for the past three months it has been reduced.
It follows the company operating reduced weekday services in June and drivers striking on 10 June, causing all routes to be cancelled.
Environment Minister Roger Domaille said the amount was commercially sensitive, but was "significant".
The reduction is made under the service credit part of the contract agreed between the States and CT Plus.
Deputy Domaille said: "No bus service is perfect so they are allowed a certain number of dropped services but once that has been exceeded then we level a service credit.
"Some people might say it's a bit harsh as in July for example they delivered over 99.8% of the bus service and I'm still levelling the service credit because of previous past performance.
"That is the contract and I've got to apply the contract... we're looking at how we could put that service credit money back in to the service.
Frank Villeneuve-Smith, communications director for HCT Group, which owns CT Plus, said: "It's fair to say the service in June wasn't up to scratch... our priority has been to move on to try to make sure the service is good enough to avoid disrupting the public in future."
He said the root cause of the problems had been a staff shortage, which it was working with the Environment Department to address.