Sark tourist carriage death accidental, inquest rules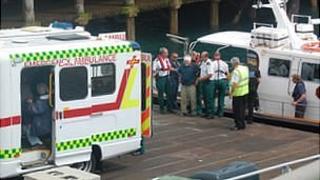 The death of a Swiss woman after a horse-drawn carriage crash in Sark was an accident, an inquest has ruled.
Dora Jufer, 67, from Melchnau, suffered head and chest injuries when she was thrown from the carriage when it hit a bank near the Dos D'Ane in June 2012.
She was taken to Guernsey's Princess Elizabeth Hospital for treatment, but later died.
The investigation found nothing wrong with the horse or carriage which could have caused the crash.
Seven other Swiss tourists, including Mrs Jufer's husband Max, and the carriage driver were also taken to hospital for treatment, but were all later released.
Loose or broken
Carriage driver David Bevan said when it approached the corner at the Dos D'Ane, the horse "bolted" and his attempts to slow down by applying the brakes and pulling back on the reins were unsuccessful.
He said about 10 yards from the corner, travelling at about 30mph, he felt tension in the off-side rein go, suggesting it had come loose or broken.
Mr Bevan said as the carriage came around the corner, the left front wheel hit the bank and turned on to its side, and all nine people onboard fell out.
He said he was not aware of anything that could have caused the horse to react in this way, and after the collision it was calm.
'Frightening and difficult'
Expert examination of the tack, bit and carriage found no faults.
The expert suggested the driver may have grasped just one side of the rein with the slack, and this gave the impression the rein had snapped in what was "a frightening and difficult situation".
The 13-year-old heavy cart horse Blue had been in two other incidents.
The second, just two weeks before the fatal crash, saw the horse go into a trot without direction and canter for about three strides before the driver pulled on the reins and stopped the carriage as it smashed through a window.
In August 2012, the horse was banned from being used to pull carriages with passengers in Sark.