Guernsey bus company offers free Ormer cards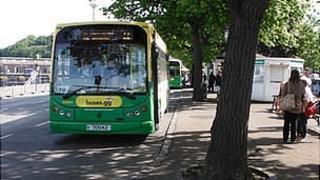 Guernsey residents are being offered free bus travel cards after the company revealed plans to charge those without a card double.
CT Plus, the bus operator, introduced a two-tier fare system, with £1 for residents and £2 for tourists, in May.
Currently anyone showing a card or identification can get the lower fare.
The £1 Ormer cards, which can be pre-loaded for cheaper fares, are only available to those who can provide proof of residence in the island.
'Very irksome'
Frank Villeneuve-Smith, communications director for HCT Group which owns CT Plus, said it had made the changes after comments and criticism from passengers about being asked to prove they were local.
He said: "The thing that is really getting the goat of islanders is that question - are you resident or not? - and doing that every time you take a bus journey, people are telling us they find that very irksome."
Mr Villeneuve-Smith said the cards, which they were making available on buses, would be free to islanders from Monday until 7 October when the change would come into effect.
He added that he wanted to reassure pensioners who qualify for free bus travel there was "no change" as they would continue to have to show their social security cards to drivers.
Funding the service
He said: "We introduced the two-tier system as it is very important to get more resources into the bus network.
"As Guernsey taxpayers contribute through the subsidy... and through their fares, those people who aren't Guernsey resident should they pay more? We considered at the time that this was fair although it was controversial."
Mr Villeneuve-Smith said a £2 fare was "broadly much nearer to what the bus service cost to run".
He said the company would welcome a wider discussion on where the funding to run the bus service should come from.