Herm communications 'cut off by cruise ships'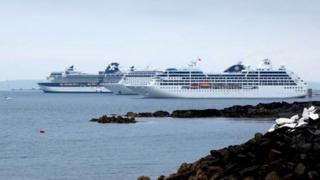 Cruise ships visiting Guernsey waters are causing Herm to be left without phone or internet, according to the island's government.
The ships are being asked not to anchor in parts of the channel between the islands because of concerns it is disrupting Herm's telecoms signal.
The island uses microwaves for internet access and landline calls but the signals can not pass through the ships.
Representatives from Herm tourism said it has happened twice in 18 months.
Jess Bisson, from the telecom company Sure, said they were working on an alternative where the signal could be sent around the ships.
She said: "There have been co-ordinates given so the harbour master can liaise with cruise ships."
Herm's director of hospitality Jonathan Watson said online access is crucial for Herm's businesses.
He said: "It is being transmitted from Guernsey perfectly well and we haven't received it here.
"We can't use property management systems for accommodation and systems for gift shops because they are internet based."
Guernsey's harbour master Captain Peter Gill said due to the lack of space in the Russell microwaves will occasionally still be blocked.