Huelin-Renouf closure delays building work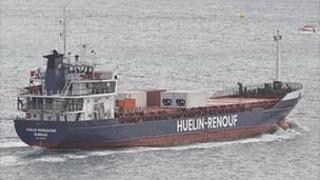 The collapse of a shipping firm has been challenging for Guernsey's construction industry, according to a senior figure.
Huelin-Renouf went into liquidation earlier this week, leaving hundreds of tonnes of materials such as timber, concrete and paving at various docks.
Clive Fenner, of the Building Trades Employers Association, said work was under way to cut delays to projects.
He said it was a difficult period while the shipping firm's future was unclear.
Mr Fenner said: "The immediate impact is clearly from disruption that we've experienced and some delays... there are goods sitting in Southampton.
"At the moment we're concentrating on trying to ensure and maintain a continuity of supply materials... general construction materials, timber, concrete, paving - those types of standard building materials."
He said Huelin-Renouf had carried "a major part" of the island's construction materials but they were also carried by Channel Seaways and freight services were also available from Condor Ferries.
Mr Fenner, who is the managing director of building merchant Norman Piette, said his company had 160 tonnes of material at Southampton docks.