Guernsey Gache could be made off island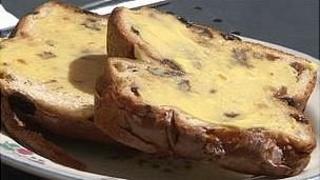 A traditional fruit loaf could be made off island due to the closure of Guernsey's biggest bakery, Warry's.
Channel Island supermarkets sell more than 20,000 loaves of Gache - a bread containing sultanas served with butter.
A spokesman for Senner's bakery, which also makes the bread, said they could not make enough to meet demand.
Phil Soulsby, Sausmarez Manor tearooms manager, said he hoped a way could be found so it was still produced in the island.
He said: "It would be such a shame for Guernsey's heritage if such a key product had to be made off the island or if it died out altogether."
Mark Cox, manager of the Jersey Co-operative store, said they were working on producing it in both islands to supply their stores.