Rare sea slug discovered on reef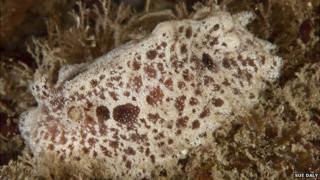 A rare sea slug has been spotted off the coast of the Channel Islands.
Sue Daly, a diver and natural history photographer, said the atagema gibba species had previously only be seen in two other places in the British Isles.
She said the 2in (5cm) long creature was found by L'Etac, the islet off the south coast of Little Sark.
Ms Daly said the sea slugs, or nudibranchs, were from much further south but had previously been recorded in Cornwall and in the Scilly Islands.
She said the find had been verified by an expert.
Ms Daly added: "Nudibranchs are very popular with divers as unlike those on land they're very colourful."