Call to study Alderney air links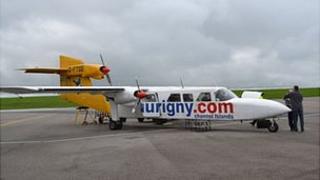 Alderney's air links need to be reviewed before any upgrade work, according to one politician.
Next month Guernsey States, which owns and runs the airport, will vote on prioritising the refurbishment of the runway within the next four years.
Alderney States member Neil Harvey said it was a decision that should not be taken in isolation.
He said changes needed to be made with an idea of what type of planes will fly, and their frequency.
Aurigny, the only airline that operates from the island, announced in April it would be replacing its six trislanders.
'Number one issue'
The 15-seat planes operate between the Channel Islands and between Alderney and Southampton.
Mr Harvey said: "Airport and air links are the number one issue in Alderney.
"The main runway is in a fairly poor state and whilst in the summer months we have one of our grass runways the other one has been closed.
"For the sake of two or three months to really think the problem through and find the best solution."
He said larger aircraft and a longer runway could allow Aurigny to turn what was a loss-making service into a profitable one.